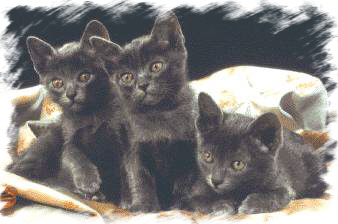 At the present time, we do not have any kittens available. We are expecting a litter in the fall. They will be offered to our waiting list when they are 16 weeks old (4 months). As is our practice, it is first with a deposit, first with a reserved kitten. We also have another litter that will be born later next summer.
If you are interested in a kitten from these or future litters, please let us know. You can contact us by phone or email. Our email address is dennis@korats.com or you can phone us. We have an electronic mailing list, and if you send us your email address, we will add it to our mailing list, and we will send you notification when we have kittens (or adults) available for placement. Our mailing list is a one time broadcast message of kitten availability. If you wish to wait for a future kitten, you must let us know to put you back on the waiting list to await the next broadcast message. If you want a kitten earlier, you can contact us with your location and we can possibly recommend another breeder who may have kittens sooner.
All of our kittens are certified by our veterinarian as healthy before they are shipped and we require you have your veterinarian check them within 48 hours of arrival at their new homes. We sell all our kittens with a sales contract. If you would like to see our contract, click here. (This is pdf file and you will need the Adobe Acrobat Reader to view it.) You will need to press your "back" button to return to this page from the contract page and you can print the contract out for later reference.